Any marketer knows that everything in the digital world is just as much a rat race for us as it is the nerd herd down the street. In fact, you could probably say that our field is defined by "finding things first". Originality, simplicity, and efficiency are the three ingredients for a marketing match made in heaven… So when Apple's App Store first opened its doors in 2008 and the idea of in-your-pocket originality, simplicity, and efficiency took off, we saw what might be the biggest boom in marketing freebies and go-get-'ems ever known.
Apps have without a doubt changed the way we live. Whether you're listening to your favorite artist's newest album on Spotify, catching a ride around town with Lyft, or divvying up the amount of your group's dinner check with Venmo, our reliance upon apps is enormous. The same goes for digital marketing. Here is a list of must-have marketing apps that any company must have:
For Creating Awesome Content
Awesome content is a major chunk of marketing, and now you're able to create it on your phone with simple apps!
1. VSCO Cam
VSCO Cam is a simple and effective photo-editing app for making professional quality photos. The preset filters and effects can be individually customized and transformed to make your photo just the way you want it. Functions such as contrast, vignette, and exposure work like having an abridged version of Photoshop on your phone to take with you wherever you go.

2.PartyParty!
If you're looking for something funky and fun to spruce up your social media pages, give PartyParty a try. This app allows you to make your own stop-motion videos and gifs. We love this app because the creative options are endless.
3. FrameTastic
Have you seen the picture collages that everyone makes on their phones nowadays? Yeah, that's this app. Group multiple pictures in one with this simple frame maker. Share more content and get more variety in your posts with these pretty touches.
For Staying In Touch On Social Media
Social media apps are likely the most obvious downloads for any marketing guru, but they are still worth a mention. Here's where to share that awesome content you made via the apps listed above!

4. Twitter
The Twitter app allows you to conveniently tweet on the go. Flip between multiple accounts with the easy switch users tab and make sure you never miss a minute to share content with the world.
5. LinkedIn
With over 330 million users, LinkedIn has become the main networking platform for professional purposes. The easy-to-navigate app syncs with your personal calendar, allowing you to stay ahead of the game while connecting with professionals in different spheres. Big plus for expanding your professional circles!
6. Facebook
Facebook is an essential on your phone. The Facebook app lets you stay connected with your friends and family, share photos and videos, play games, and be informed of group activities. The app also alerts you with a notification for any happenings related to you, so you know who is talking about you in the media world at any given time.

7. Instagram
Perhaps the leading platform in visual marketing, a well-done Instagram profile is sure to assure you brand visibility. Photos that illustrate both brand character and finesse are sure to bring in leads and connections you would have never thought of. Don't sell your company short by skipping out on this one!

8. Pinterest
Pinterest is a great platform to show off your creative side. Pinterest allows you "pin" things created by other users (or created yourself) and make collages dedicated to a particular theme. The most fun company Pinterest pages think outside the box and show us that there is a way to customize even the simplest of platforms!
For Getting Serious in the Workplace

9. Evernote
Evernote is the go-to note-taking app for everyday use. Whether its meeting notes, phone numbers, recipes, or important documents, Evernote saves everything digitally and backs it up in "the Cloud" so you won't have to worry about losing anything ever again. It can also save an entire article simply via a website's URL. And perhaps most valuable to a marketer is that it gives you the option of sharing notes with coworkers or anyone you want!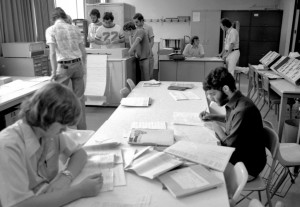 10. CamScanner
This is a great app to have because you'll most likely need it when you least expect it. This app converts paper files into PDF documents in seconds. All you do is take a photo of the document you need, and the app reformats it into a digital file. Better yet, you don't have to worry about privacy because the password protection option protects your documents.

11. Whova
Whova is a networking app developed for interaction amongst large numbers of people. This app is useful for event planning, where attendees can collaborate on an event prior to the actual day. The app provides space for all of the event's essential necessities, including an agenda, parking directions, GPS maps, and additional information. You also have the option to exchange contact information with other attendees. Score!

12. GroupMe
Lastly, GroupMe is one of the best group-messaging apps. Owned by Microsoft, the app is free and provides group or individual messaging through every device—whether it's on your iPhone, Android tablet, or Windows computer. Share videos, photos, GPS locations, quickly and efficiently. Small features such as the option to access GroupMe messages through SMS and the ability to "like" messages makes this app stand out from all the others.
What are some of your favorite marketing apps? Let us know in the comments section below.